Master The Intricacies Of Big Data With Me
The very first Strategically structured program on Big Data to grab a dream job. An ultimate guided program to crack top tech companies with ease.
Learners from 18+ Countries
Association with 50+ Tech Companies
Consistent 5★ Google Rating
Here to guide you propel your career several levels higher 
I transform careers of Big data aspirants through my carefully curated masters program to help them evolve into Big data experts. I have put in my whole hearted effort to present to you the best online big data course through the experience gained by having worked on multiple challenging Big data projects as an EX-CISCO and VMware employee.
The journey began in 2018 with my passion for teaching. Started by training a few working professionals, eventually quit my high paying job to pursue my passion and to bring about a change in the professional lives of many.
I have incorporated effective learning approaches to master Big Data that have been assimilated over the years as an alumni of top educational organizations like NIT Trichy, BITS Pilani and IIIT Bangalore.
Trendytech is now recognised by Government of India as an Innovative Startup
My small venture- Trendytech born out of sheer passion now prepares professionals to become successful Big Data experts.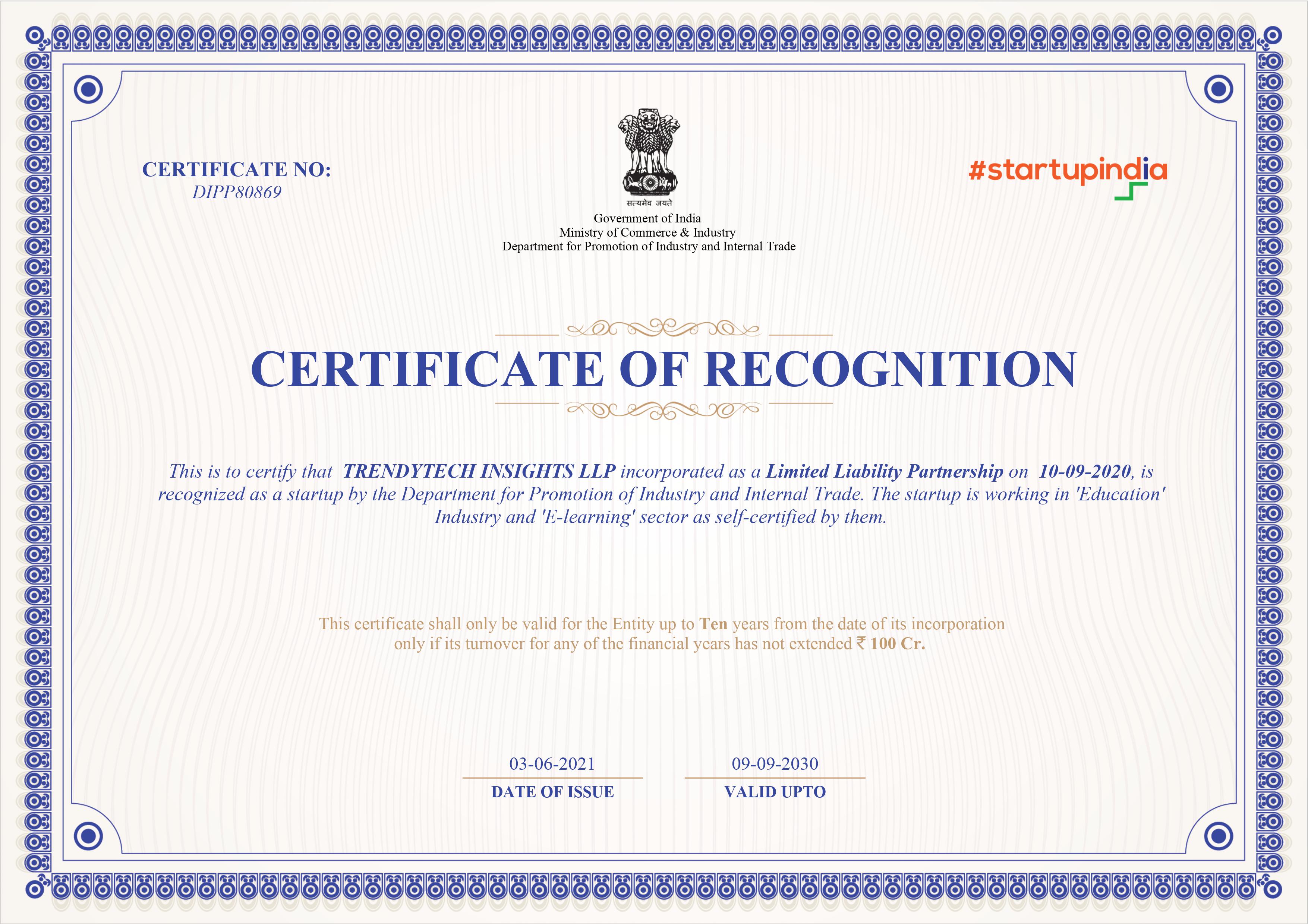 A Program to master Big Data Technologies

Industry Oriented Course Curriculum

Unparalleled Teaching Style

Quality course content

Hands-on Practical oriented approach

Extensive student support system

Promising Career Support
Ultimate Big Data Preparation Kit
After Years of Experience and Research, This Ultimate Preparation Kit is curated by Me to provide an
Affordable and Effective
way to prepare you for your Big Data Career
Hadoop core components and its ecosystem
MapReduce, HDFS, Sqoop, Hive, Hbase.
Spark with Scala (Performance optimisation)
Spark Core, DataFrames, DataSets, Spark SQL, Spark Advanced optimizations
Structured Streaming with Kafka
Spark streaming, Kafka Architecture
Big Data on AWS cloud
EMR, Athena, Glue, S3, Redshift
Airflow & CICD pipeline
Scheduling / Orchestration, Git, GitHub
A Curriculum that prepares you to thrive in the Industry as an
Expert
Big Data Engineer.
Get Recognised with the Course Completion Certificate
Course completion certificate will be awarded on successful course completion and upon scoring above 60% marks in the quiz consistently throughout the program.
A value add-on to your LinkedIn Profile that can grab attention of our hiring partners and top big data companies.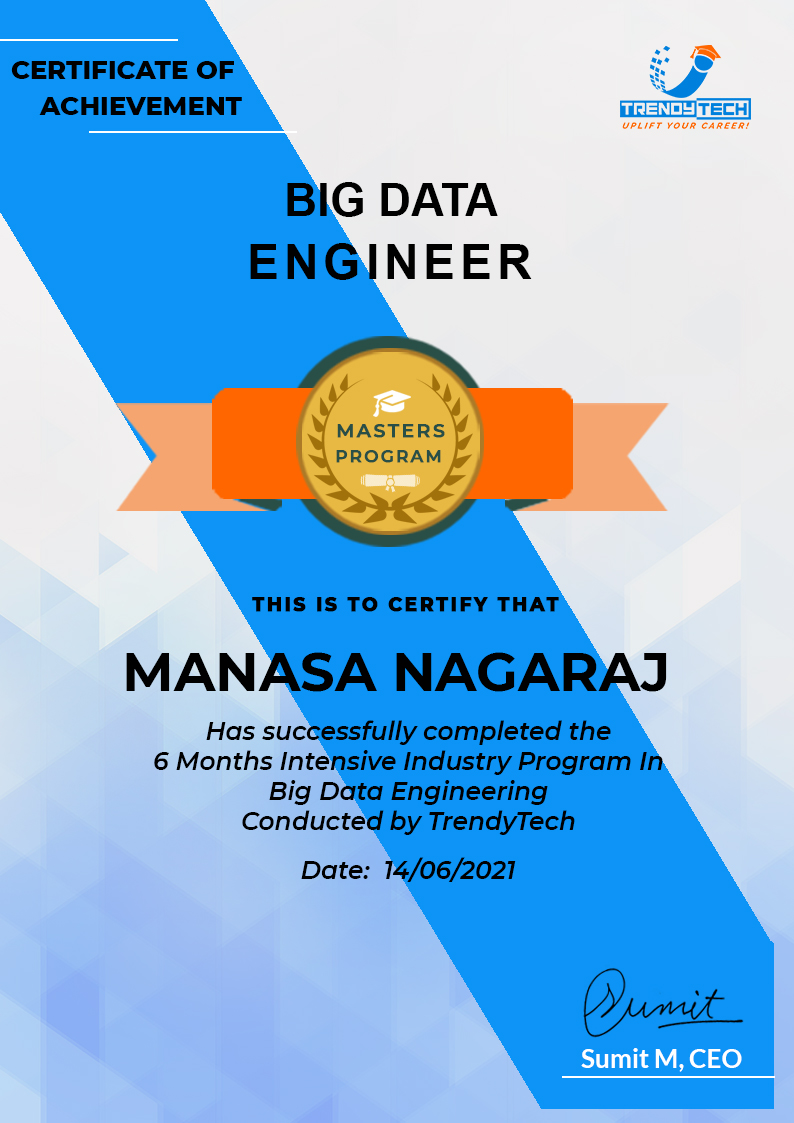 Start your Big Data Journey
Top-quality learning through one of the most talked-about course on Big data
Talk to our Learning Consultant to get a better understanding of the Program

Easy Registration that is just a Form away

Welcome Session to get you started with the program

Access the Course Content through our user friendly learning portal
Get all your doubts cleared over our slack channel supported by our technical team

Quizzes and Assignments that prepares you to tackle challenging tasks effectively

45 min weekly Live Sessions to get you acquainted to the industry standards

Interview preparation and Placement assistance to help you crack multiple interviews
Get your offer letter and KickStart your Big Data Journey
Our Alumni work at eminent Big data companies and progressive Startups














A Placement Cell that assists you in starting your
Dream Big Data Career
What Professionals are raving about TrendyTech
The Program outweighs our several years of industry experience
I have been the part of many courses before in different institute but the difference between them and here is that I got the full moral support along with good teaching. It's the faith on you from the trainer which accelerates the good in you and differentiate you from the crowd.
I decided to take Sumit's course on July 20 and it turned out to be one of the best decision.The course was really good with all the concepts clearly explained and to follow up there were datasets and assignments given for practising. At the end one live project was done which helped a lot during interview. After doing this course till now i have been able to grab 3 offers. Thanks Sumit sir:)
"That one desire to provide best service to others, be it in any profession, makes you a successful person and shine out amongst others ." The course on Big Data by Sumit Sir, shows the amount of depth Sumit Sir has put in it, only for the desire that the people who come to him for a career in Big data, gets the best of learning experience. The course itself is an end to end pipeline, with each week completion it will take you one step closer to your dream of becoming a well versed data engineer. He rightly says in his introduction video, "Once you join this course, there is no looking back" , as the future that lies ahead looks very exciting.
I had a great learning experience with Trendytech. The course structure was really very good and covered most of the topics which attracted my attention. The big data concepts were clearly explained by sumit sir especially the examples were all real life scenarios on which we work on day to day basis.
After a lot of struggle to understand various cumbersome bigdata ecosystem tools I got acquainted to sumits master course after which I realised that the puzzles i was missing to get end to end life cycle of big data project is contained in this course.sumits course for big data is equivalent to any data analytics course offered by universities abroad infact I would go one step further and an proclaim that you can become data architect solution provider if you adhere to navigations he provides you in this dense and vast jungle of tools programming and SQL. one would smoothly able to grasp each every minute details required to become a data engineer that you have envisioned for yourself by simply walking through his course.
I was already working in big data and hadoop domain before coming across Sumit's course, had opted for few external courses as well but they weren't much helpful. Sumit's course has helped me get in depth understanding of the industry concepts. His way of explaining things brings in a sense of confidence, boosts my skillset to excel in my existing project and my future career.
TrendyTech Big Data Course I must say this is one of the best courses I have taken by far. Everything from the videos to assignments is amazing,informative and also easily explained. It has helped me tremendously to understand complex topics and made me confident enough to perform it practically as well. I encourage everyone to take it as I think it is a must-take course for those who are interested in grasping profound knowledge from Hadoop to Spark. It will certainly help one to make a career breakthrough in Big Data.
Sumit Sir's big data course is perfect for someone who wants to grow in his career in big data technology. The knowledge is just not high level understanding but it includes everything from basics to complex concepts with easy examples plus hands-on given in form of assignments. The best part is the course also provides on how to prepare for interview tips+ linkedin profile sessions every week which helps in getting good job. Its because of this course i was able to have 7 offers and go from 4.85LPA to cracking 14LPA job offer, I owe my success to trendytech sumit sir's big data course.
I had an opportunity to attend Sumit's course that helped me bridge the knowledge gap in the field of big data. I loved the way he structured the course and the efforts he put in to keep the course up to date. Sumit has a unique way of delivering content that quickly grabs the attention of any kind of audience. I highly recommend his course for anyone who is looking to upskill themselves with a solid foundation in the field of data engineering.
Awesome course ,if you want to get into big data.Probably it is the best updated course for big data as per the industry needs.Highly recommend one.Thank you so much Sumit sir for providing the best course on big data .
Shivraj Singh
10. May, 2021.
I had taken big data training from TrendyTech and found its the No 1 big data training institute. It's not just only training but it's like a real world project and scenario based approach. Sumit sir has through knowledge of all the big data tech stack. He made all the tech stack so simple that everyone can understand. I became fan of his teaching style. Earlier I was looking for internal workings of big data and spark which i got from here. With hands on experience to the real data and scenarios.
Nikhil D Mehta
10. May, 2021.
As an experienced professional having over 8 years of work experience, I would like to share that this course has been an exceptional, life-changing experience for me. Sumit has delivered a true Master Program on Big Data Processing. Every concept has been explained in a crisp, clear manner and the practical examples reinforce the concept learnt. The course has a clear, logical flow where every new concept has a clear relation to the previous concept. As a result, the learning is extremely structured and not scattered. The placement support is excellent as well. I've found tremendous support from the team even after completing the course. Highly recommended to anyone wishing to venture into the Big Data Engineering space.
Suyash Ratnam
10. May, 2021.
Whatever i know about big data is because of this institute. Sumit sir teaches the required technologies that are currently companies using. This course on big data is more than enough for everyone to understand big data in detail. I would recommend everyone who wants to learn about big data, if you enroll for this course you will never have to learn anything from anywhere else. Thanks Sumit sir.
Sunil Patil
10. May, 2021.
If you really want to master without any doubt go and take subscription of trendytech. Sumit M top class teaching will not only make you very good developer but you will understand small small things at infra and architect level. join trendytech to master below skills. Hdfs,MapReduce, SQOOP, Hive,hbase,Scala,Spark,Kafka,AWS Sunil Patil
Sakshi Maheshwari
10. May, 2021.
The course contains in depth knowledge of all the topics from basics to advance level. I was already working on BigData but many of the optimization concepts were new for me and it covers both theoritical as well as practical aspects. Very knowledgeable course! Thankyou Sumit for making it so easygoing.
Manikandan Muthiah
10. May, 2021.
Deepak Bagha
9. May, 2021.
A life changing course...I was lucky enough not to approach anywhere and straight away getting hold of your course...This has really changed my professional path.. Best place to learn end to end Bigdata learning and give carrier a perfect move
The course structure is unlike any other in the industry, properly curated to excel the candidate taking it up. This course is more than enough to make any candidate switch to a Big Data profile regardless of any field the candidate currently is in. I was also dicey at first whether to take up the course or not, but I had a call with Sumit once and he gave me enough confidence to join the course and it was the best decision I made. I was able to crack 8-10 interviews in the duration of 2 months holding multiple offers in hand. It is just exceptional and I'd suggest people moving to Big Data field to start from here.
Chetna Ringe
9. May, 2021.
Empowering learners of tomorrow
Over Thousands of Working Professionals have completed this course and started working at their dream job, whats stopping you? 
How You Benefit From This Program
Frequently Asked Questions
It is designed for working IT professionals. However, the program could be taken up by graduates and professionals from other domains provided they can put in an additional effort.
Will I receive a certificate on completing the course?
Yes, You will receive a certificate on completing each of the sub modules and a final certificate after course completion.
What is the expected Time Commitment for the program?
12 hours of dedicated time per week is what is needed to master Big Data.
Will I be industry ready after completing this course?
You will be trained on the latest trending technologies in the Big data industry. The Capstone project that you would be implementing towards the end of the program will make you confident enough to handle any project.
What are the prerequisites of the program?
Basic Knowledge of a programming language like Java, Python, and basic understanding of SQL
We would be delighted to help !

Follow us

Send Us A Message​​
hello@trendytech.in
We would like to get in touch with you